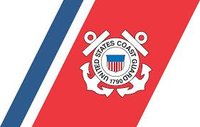 Clinton Baker
Clinton "Bud" Baker, 69, of Island Heights, passed away Monday, September 11, 2017. Bud worked as a lineman with Verizon for 39 years. He served with the US Coast Guard from 1967 to 1971 before transferring to the reserves. Bud was an active member of the Toms River Elks where he was co-chair of the Golf Classic fund raiser. His other memberships include the Island Heights First Aid Squad, the American Legion, Toms River Post 129, was an at large member of the VFW and had been active as a leader in local Boy Scout Troops. Born in New Brunswick, Bud lived most of his life in Island Heights.
Surviving are his wife of 46 years, Nancy Friewald Baker; daughter, Jennifer Baker; sister, Virginia Ann McNell; and several nieces, nephews, cousins and special friends.
Visitation will be held at the Kedz Funeral Home, 1123 Hooper Ave., Toms River, on Friday from 4 to 6 pm with a funeral service at 5:30pm. In lieu of flowers donations in his memory are requested to the Toms River Elks for their Lodge Scholarship Fund, Special Children Committee or the Veterans Committee.