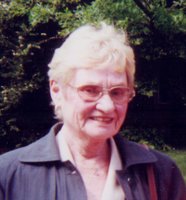 Lois C. Kunze
Lois C. Kunze, 94 of Manchester, passed away Monday, September 11, 2017. Lois worked for the West Orange Board of Education as a secretary for 10 years. Born in West Orange, she lived there most of her life. She and her husband summered in Ocean Beach 3 from 1966 until making it their permanent residence in 1983. She was predeceased by her beloved husband Robert W. Kunze in 2014.
Surviving are two sons, Robert and his wife Cynthia, Richard and his wife Michele; two grandsons, Kristopher Kunze and Andrew Kunze and his wife Susan; two great grandchildren, Travis and Samantha Kunze.
A memorial gathering will be held at Kedz Funeral Home, 1123 Hooper Ave., Toms River, on Friday from 4:00pm until the service time at 6:30 pm. In lieu of flowers, donations to the American Diabetes Association, 575 Route 28, Bldg. 2, #2107, Raritan, NJ 08869, in her name would be appreciated.