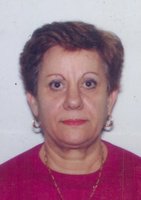 Lena Attard
Lena Attard, 73 of Toms River, passed away peacefully at home with her family at her side.
Lena was born in Malta, Europe. She lived in Brooklyn, New York before settling in Toms River in 1974. She was a communicant of St. Luke's Catholic Church. She was predeceased by her parents, Benjamin and Roseina Mifsud.
Lena is survived by her beloved husband of 46 years, Paul Attard; three sons, Stephen Attard of PA, Jonathan Attard of NC; Michael Attard of VA; three cherished grandchildren and expecting the arrival of three more grandchildren.
Visitation will be held at Kedz Funeral Home, 1123 Hooper Ave., Toms River on Saturday, Nov. 4, 2017 from 2 to 4 and 7 to 9 pm. A funeral service will be offered during the evening viewing hours In lieu of flowers donations to Meridian At Home Hospice, 80 Nautilus Drive, Manahawkin, NJ 08050 in her name would be appreciated.