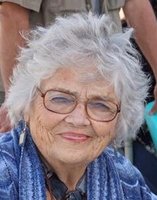 Jacqueline M. Sheehan
Jacqueline M. Sheehan, 82 of Toms River, died in the Lord, with her family at her side on Saturday, November 18, 2017. Jacqueline was a devoted wife and mother. She was a communicant of St. Joseph's Catholic Church of Toms River and was a consecrated widow of the Society of Our Lady of the Most Holy Trinity. Jacqueline was an active member of NJ Right to Life.
She worked for 10 years for Mutual of Omaha in Wall Twp. and as a Visiting Home Health Aide. Born and raised in Elizabeth, she lived in Island Heights from 1968 until 2005 when she moved to Toms River. Jacqueline was predeceased by her husband William T. Sheehan, her son Michael, her daughter Eileen Calore, two grandsons, Francis Xavier Duddy and Neil Patrick Werner, and her brother James Whelan earlier this year.
Jacqueline is survived by three sons, Fr. Gerard Sheehan, Kevin Sheehan and his wife Sandra, Joseph Sheehan; three daughters, Maura Duddy and her husband Danny, Patricia Werner and her husband Neil, Elizabeth Ann Crowe and her husband John: 27 grandchildren; 8 great grandchildren; brother Edward Whelan; two sisters, Joan Santos and Joyce Sauer; and sister in law Rosemaire Crilly.
Visitation will be held Friday from 4 to 8 pm at Kedz Funeral Home, 1123 Hooper Ave., Toms River. A mass of Christian Burial will be celebrated 10:00 am Saturday at St. Joseph's Catholic Church, 509 Hooper Ave., Toms River. In lieu of flowers, please send a donation to the Society of Our Lady, P.O. Box 152, Robstown, TX 78380, in her memory.