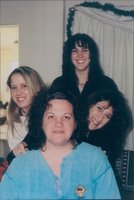 JoAnne Smith
JoAnne Smith, 64 of South Toms River, passed away Sunday, November 26, 2017. JoAnne owned and operated the Neighborhood Laundromat in Brick for many years before retiring. She was born in Jersey City and grew up in Little Ferry. She lived in Seaside Heights from 1990 until she moved to South Toms River in 2009. JoAnn was predeceased by her father Michael Lisa.
JoAnn is survived by her husband Harold 'Harry' Smith: son Elijah Bryant and his fiancée Jessica Cimato; mother, Helen Lisa; brother, Michael Lisa; three sisters, Michele Cappadona, Natalie Lisa, Noelle Lisa; and several nieces and nephews.
Visitation will be held at the Kedz Funeral Home, 1123 Hooper Ave., Toms River on Wednesday from 2 to 4 & 6 to 9 pm.