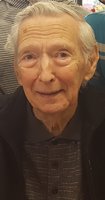 Stanley Maluss
Stanley Maluss, Jr, age 85 of Toms River passed away Sunday, December 24, 2017 at his home surrounded by his family and faithful dog, Bambi. Stanley worked in advertising with Bambergers before working in banking with First State Bank in Toms River and Trenton. He was also a Navy veteran. Born in Newark, he moved to the Toms River area in 1958. Stanley was predeceased by his beloved wife, Lois Elsey Maluss, in 2014 and a grandson, Samuel Fennel, Jr, in 1992.
He is survived by three daughters, Lois Yannick and her husband Raymond, Leslie Heaney, Linda Fennell and her husband Samuel, 14 grandchildren and 17 great-grandchildren.
Visitation will be held at Kedz Funeral Home, 123 Hooper Avenue, Toms River on Thursday from 5 to 8 pm. A funeral service will be held 10 am Friday at the funeral home followed by burial at Ocean County Memorial Park, Toms River.