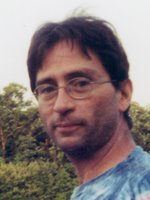 Bernard J. Nicholl
Bernard Joseph Nicholl, 53 of Jackson, passed away Thursday, December 21, 2017. Bernie was a foreman at the FEL Corp. in Farmingdale, NJ for several years. He was a devoted father and loved the outdoors. He spent many hour fishing the local rivers and lakes with his boys. Born in Staten Island, he lived in the Jackson, Freehold area most of his life.
He is survived by three sons, Christopher Nicholl, Sr., Michael Nicholl and Sean Nicholl; grandson, Christopher Nicholl, Jr.; four brothers, Joe Nicholl, Rich Dalton, Freddie Dalton, Eddie Enright; sister Dawn Nicholl.
Visitation will be held at Kedz Funeral Home, 1123 Hooper Avenue, Toms River on Saturday from 5:00pm until the service time at 7:30pm. In lieu of flowers contributions to the family would be appreciated.