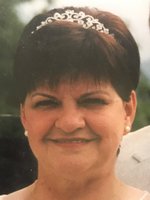 Olga Weber
Olga Nikitin Weber, 63 of Howell Township, passed away on Friday, December 29, 2017. Olga had a friendly, outgoing personality. She was a loving mother and grandmother who enjoyed spending time with her family and friends. She spent many years working as a waitress in the Howell and Freehold area. She also worked in customer service for Walmart, and Drug Fair. Olga was born in Austria and lived most of her life in the Howell Township. She was predeceased by her husband Thomas Weber in 2016.
She is survived by three sons, Ian, Kyle and Ryan Smith; brother Max; two sisters, Mary and Helen; and 6 cherished grandchildren, Dakota, Sadie, Carter, Owen, Emily and Madeline.
Visitation will be held at Kedz Funeral Home, 1123 Hooper Avenue, Toms River on Tuesday from 5 to 8 pm. A graveside service will be held 11:30 am Wednesday at the Evergreen Cemetery in Farmingdale, NJ.