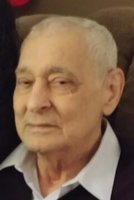 Anthony Bucceri
Anthony Bucceri, 74, of Toms River, passed away Thursday, January 18, 2018 at home with his family by his side. Anthony owned and operated a construction Co. for many years in the Bergen and Hudson County area. He was born in Messina, Italy and lived in New Milford before moving to Toms River. Anthony was predeceased by a son, Salvatore Bucceri, and two brothers, Peter and Frank Bucceri.
Anthony is survived by his wife, Maria Bucceri; four children, Donna, Anthony, Ginine and Michael Bucceri; seven grandchildren, Justin Wilson, Jeremy Wilson Jake Wilson, Vincent Bucceri, Vanessa Bucceri, Angela Bucceri, Anthony Bucceri, Jr.; sister, Carmela Bucceri; and brother, Mario Bucceri.
Visitation will be held at Kedz Funeral Home, 1123 Hooper Ave., Toms River on Saturday from 9 to 11 am. Interment services will take place 11:15 am at St. Joseph Cemetery, 56 Cedar Grove Road, Toms River.