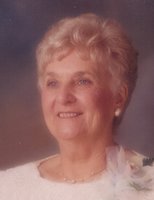 Gloria B. Harries
Gloria B. Harries, 90 of Toms River, passed away peacefully on Saturday, January 20, 2018. Gloria was born and raised Union City, NJ. She moved to Toms River in 1979 where she was a communicant of St. Justin's Catholic Church. She was predeceased by her beloved husband John R. Harries in 1996 and a son John L. Harries in 1993, a brother Louis Jenny and a sister Theresa Casner.
Gloria is survived by a son, Kurt; two daughters, Deborah Lacher and Joyce Harries-Row; 9 grandchildren; 5 great grandchildren.
Visitation will be held at Kedz Funeral Home, 1123 Hooper Ave., Toms River on Thursday from 4 to 8 pm. Mass of Christian Burial will be celebrated 9:30 am Friday at St. Justin's Church, 975 Fischer Blvd., Toms River. Letters of condolence may be sent by visiting www.kedzfuneralhome.com.