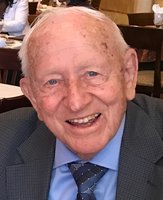 George E. Kelsey
Dr. George Kelsey, 88 of Whiting, NJ went home to be with the Lord on Tuesday, January 23, 2018. He was born in Woodbury, NJ. Dr. Kelsey served the people of Jordan for 45 years. During that time, he worked to establish new churches, was involved with refugee relief work, and started an Arabic speaking language school which still operates today. After retiring from the mission field, he continued to teach, preach, and garden. He enjoyed sharing his archaeological knowledge with school children. He was a great Story Teller.
Surviving are his wife of 66 years Martha Nystedt Kelsey; two sons, William(Peggy) and Paul(Gail) Kelsey; two daughters, Linda Kelsey and Lois (David) Dvorak; four brothers, Allen, Rodney, Carl and Richard Kelsey; two sisters, Dorothy Blood and Idalie Bradeen; 10 grandchildren; 3 Great Granddaughters and a great grandson on the way.
He was predeceased by his brother Roy and his son Richard Earl.
Visitation will be held at the Kedz Funeral Home, 1123 Hooper Ave., Toms River on Sunday, January 28, 2018, from 5 to 8 pm. Funeral services will be held at America's Keswick, 601 Route 530, Whiting, NJ in Raws Hall on Monday, January 29,2018, at 11:00 AM. Interment will be private. In lieu of flowers donations can be made to America's Keswick, Toms River Community Church Outreach, or First Baptist Church Missions Program