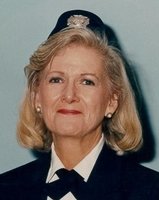 Arline Backus
Arline (Paton) Backus of Beachwood, New Jersey, beloved mother and friend, passed away peacefully at her home on Saturday, January 20, 2018, surrounded by family at age 83.
Born December 17, 1934 to Harold and Anne Paton in Linden, New Jersey, Arline was a proud lifelong resident of New Jersey, or as she called it, "God's Country". She was a graduate of Cranford Senior High School. In 1969, Arline married the love of her life, Robert Backus, after meeting on a blind date and moved to Beachwood in 1984 with her husband and youngest son Christopher. Arline was an active member of the community and was a life member of the Beachwood Ladies Fire Auxiliary. She also belonged to the Beachwood Senior Ladies Club, serving both as President and Treasurer. She supported the Humane Society and numerous veteran's causes.
Arline is survived by two sons, Clark Jones and Christopher Backus, siblings Harold Paton, Linda Imhoff, Kenny Paton, Thomas Hayes, and Betty Hayes Hickey, grandchildren Phaedra, Brendon, Rachelle, Robert and Brandon, and great-grandchildren Lydia and Elliott, as well as her many aunts, nieces, nephews, cousins, whom she loved "to the moon and back." She is at last reunited in heaven with her mother, father, husband, and oldest son, Scott.
A service will be held on Saturday, January 27th, at 2:00 at Toms River Church of the Nazarene, 188 Rte. 37 West, Toms River. Following the service, the family invites friends and family to join a celebration of Arline's life at the Beachwood Fire Hall at 745 Beachwood Blvd.