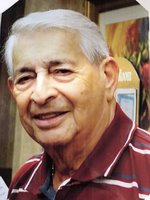 Ronald W. Jones
Ronald W. Jones, Sr., 89, of Lakewood, formerly of Brick Township, passed away Tuesday, January 30, 2018. Ron was a material expeditor for Westinghouse Co. of Newark retiring in 1985 and served as IUE Union President. He was a communicant of Visitation Catholic Church in Brick where he served as an usher. Ronald was active in the Brick Township community where he served as Council President and Police Commissioner of the Brick Special Police and was the founding member of the Ronald W. Jones Civic Association. He was appointed by the Governor to the NJ Auto Safety Council and the Brick Housing Authority where he championed the Forge Pond Senior Apartments. As a Brick Township Councilman, he was instrumental in the planning and building of Brick Hospital. Ronald served in the US Army during World War 2 and was a member of the American Legion, Post 129. He was also a charter member of the Brick Elks, Lodge # 2151 , and the Brick Italian American Club. Ron was born and raised in Newark and developed an interest in boxing which led him to become a trainer and owner of Paddy Ryan's Gym. He was also inducted into the NJ Boxing Hall of Fame. Ron lived in Brick for many years before moving to Leisure Park in Lakewood where he spent 5 enjoyable years among wonderful friends and staff members. The Donovan Catholic community was dear to Ron's heart. He served as a beloved hall monitor at the school where 2 of his grandchildren attended. He was predeceased by his beloved wife Catherine 'Lee' Jones in 2011.
He is survived by daughters Evamarie Gere and her husband Ed, Evelyn Bonilla and her husband Pedro and Catherine Brunner; his son, Ronald W. Jones, Jr.; 9 grandchildren and 5 great grandchildren.
Visitation will be held at Kedz Funeral Home, 1123 Hooper Ave., Toms River on Sunday from 1 – 5 pm. Mass of Christian Burial will be celebrated 11:00am Monday at St. Joseph's Church, 685 Hooper Ave., Toms River.
In lieu of flowers, please make a donation to Donovan Catholic High School in memory of Ron Jones.