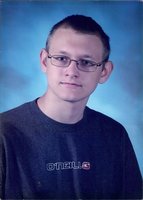 Kevin Michael Dikun
Kevin Michael Dikun, 28 of Brick, peacefully entered into eternal rest on Thursday, March 15, 2018. Born in Brick, NJ, Kevin lived there all his life. He worked at Walmart and Toys R Us.
Kevin was the loving son of Diane and Scott Dikun; brother to two sisters, Lisa Still of Beachwood and Lori Dikun of Brick; and a loving uncle to his niece Desiree Still.
The family will receive relatives and friends at Kedz Funeral Home, 1123 Hooper Ave., Toms River, on Friday, March 23, from 5:00 pm until the service time at 7:30 pm.