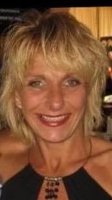 Jacqueline Lada "Jackie" Ramos
Jacqueline Lada Ramos, 53 of Brick Township, passed away Friday, March 16, 2018. Jackie was born and raised in Newark, moving to Brick in 1979. Jackie was a talented and creative painter including her unique knack for furniture restoration. She enjoyed being outdoors as well as using her exceptional green thumb for gardening. Her passion for horses, stargazing, and creativity will live on vicariously through her three beautiful daughters. She had a big and caring heart for all animals, people, and always had an open door to all.
She leaves behind her parents, Robert Lada, Sr. and Jean Jastrabek Lada; three daughters, Kodeanya Alexander and her fiancé Jacob Longenbach, Cheyenne Ramos and Madisyn Ramos; two brothers, Robert Lada, Jr., and Richard Lada; her faithful dog Senor; her friend to the end Sissy; her husband Wayne Ramos and her extended family and many friends. Jackie was loved by all and will be greatly missed.
A memorial gathering will be held at Kedz Funeral Home, 1123 Hooper Avenue, Toms River on Saturday, March 24, 2018 from 12:00 to 3:00 pm. In lieu of flowers, donations to the Popcorn Park Zoo Animal Rescue and Sanctuary, 1 Humane Way, Forked River, NJ 08731 or visit www.ahscares.org.