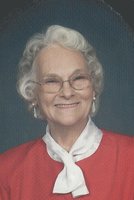 Marian E. Kadlac
Marian E. Kadlac, age 86 of Toms River, passed away Sunday, April 1, 2018. Mrs. Kadlac worked as a registered nurse in different nursing positions in Ocean County. She retired in 1994 after 5 years with Dr. Angelo's office in Toms River. She was a member of the Island Heights Methodist Church. She was a member and correspondence secretary of the Deborah Foundation, Seaside Chapter, a member of the Island Heights Garden Club and the Island Heights Cultural & Heritage Society, and a member of the WIBC at the Toms River Playdrome Bowling Lanes. She graduated from the Frankford Hospital School of Nursing in the Frankford section of Philadelphia in 1953. She enjoyed bowling and volunteered at the bingo games at the Toms River Elks, Lodge #1875. Born in Philadelphia, she lived in Hulmeville, PA, moving to Toms River in 1954. Marian was predeceased by her beloved husband Joseph Kadlac in 2000.
For all the times we spent together, I will miss you dearly, Love Melody.
Marian is survived by two daughters, Marian Anne Schultz and husband Robert of Toms River, Melody Sue Bonner and husband Patrick of Toms River; two sons, Rickey Lee Kadlac and his wife Deborah of Toms River and Russell John Kadlac and his wife LeaAnn of Millville, NJ; six grandchildren, Samantha, Robert, Rickey, Shane, Desiree, Krystal; seven great grandchildren; and brother John F. Voorhees and his wife Pam of Idaho.
Services will be private. Donations to St. Jude Children's Research Hospital, PO Box 1000, Dept. 142, Memphis, TN 38101-9908 in her memory would be appreciated. Condolences may be sent by visiting www.kedzfuneralhome.com