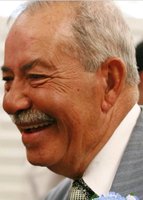 Suleiman 'Sam' Nesheiwat
Suleiman 'Sam' Nesheiwat, 86, of Bradley Beach, went home to be with his Lord on Wednesday, April 4, 2018. He was in fellowship at the Fifth Avenue Chapel, Belmar. Sam was born and raised in Jordan. As the youngest of the family, Sam was the first to come to the United States. In 1958 he and his wife moved to Jersey City. After getting settled, Sam began sponsoring family members coming to America. Now regarded as the family patriarch, it was with his help and guidance that the Nesheiwat family reaches from the East to the West coast. It was in 1964 that Sam moved his family to Bradley Beach and opened his leather repair shop known as the Handbag Hospital and operated for 25 years. He became known as the Mayor of Main Street. Sam was predeceased by his parents, Rose and Kraim Nesheiwat and two sons, Graham and Edward Nesheiwat.
Surviving are his beloved wife of 60 years, Farida Nesheiwat; his son David and wife Seham; two daughters, Lily Kircher and husband Ronald, Joyce Hagerman and husband Kelley; sister, Helen Nesheiwat; 7 grandchildren. Sam is also survived by many nieces and nephews.
Visitation will be held Monday, April 9, from 5 to 8 pm at the Fifth Avenue Chapel, 304 Fifth Ave., & B Street, Belmar. A funeral service will be held 10:00 am Tuesday at the church followed by burial at Graceland Memorial Park, Kenilworth, NJ. In lieu of flowers, donations in his memory to the Bradley Beach Fire Dept., 815 Main Street, Bradley Beach, NJ 07720 or the First Aid Squad, 725 Main Street, Bradley Beach, NJ 07720 would be appreciated.