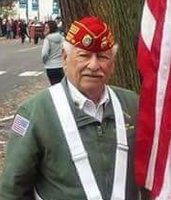 Alfred J. Schwartz
Alfred J. Schwartz, 78 of Toms River, passed away Monday, December 18, 2017. Alfred owned and operated the Thuringer Tool and Die Co., for 25 years before retiring. He then worked for the NJ Turnpike Authority. Alfred was a proud US Marine veteran having served during the Vietnam War. He was a proud member of the Marine Corp League and served as commandant the past 3 years of Post 796. He was also a member of the American Legion, Toms River Post 129, the Shore Boca Soccer Club and a local motorcycle Club.
Born in Newark, Alfred grew up in Belleville moving to Toms River in 1968.
He is survived by his three children, Julie Clark, Alfred Schwartz and his wife Debbie, and Steven Schwartz; eight grandchildren, Chelsea Clark, Katelyn Gibb and her husband Mike, Alex Schwartz and his wife Amanda, John Clark and his wife Lauren, Corey Schwartz, Jackie Schwartz, Gunner Schwartz, Sonja Schwartz; two great-grandchildren Lukas and Chase Gibb; and a brother Alan Schwartz.
Visitation will be held at Kedz Funeral Home, 1123 Hooper Ave., Toms River on Thursday from 2 to 4 & 7 to 9 pm. A funeral service will be offered at 8:30pm.