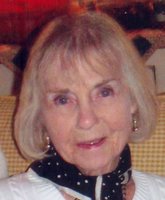 Laurene Margaret Jennings
Laurene "Renee" Jennings, passed away on Sunday, June 17, 2018. God took another angel into his heavenly kingdom. Our beautiful mom, grandmother and great grandmother left us to join her mom, dad, beloved husband and infant daughter.
Laurene , aka: Renee, was married to Frank A. Jennings for 66 years, working side by side in their Photography business, Renee Photos of Bayville, NJ. She was born in New Rochelle, New York, the only child of Larry and Mae MacDonald on August 14, 1926. The family then moved to Woodridge, NJ, where she met her 'buddy' Frank. They had 3 children, Debbie and Don, and their daughter Joanne who had died at birth. They lived in Bergen County for 8 years. After many vacations to Ocean Beach, they moved to Bayville before retiring to Holiday City.
She leaves behind her loving family, daughter Debbie and her husband Ron with whom she spent her last 2 years of life with in Island Heights; son Don Jennings from the Outer Banks of North Carolina; grandchildren who cherished her so much, Ronnie Schmidt and wife Michele of Toms River, Tracy Hoefling and husband Skip of Seaside Park, Amy Jones of Island Heights, Erin Galante and husband Leon of Toms River, Jaden and Jen Jennings, Jessica and Jared, all from the Outer Banks, North Carolina. She is also survived by 8 beautiful great grandchildren who gave her so much joy.
A Memorial Mass will be celebrated 11:00 am Monday at St. Joseph's Catholic Church, Hooper Ave., Toms River.