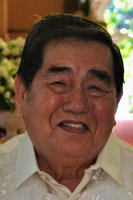 Bienvenido Dy
Bienvenido Dy Sr., age 80, of Toms River passed away Monday December 24, 2018 surrounded by his family. Bienvenido was born and raised in Cebu City, Philippines where he worked as a Mechanical Engineer. He moved to Toms River in 1993 and worked for Monsignor Donovan High School for several years. He was a member of St. Joseph's Catholic Church of Toms River where he served as an Usher and was a member of the Sacred Heart Charismatic Prayer Group.
He is survived by his wife Adelindes C. Dy; his son Bienvenido Dy Jr. and his wife Rosario; his daughter Marie Joy D. Corpuz and her husband Rodrigo; five granddaughters Michelle, Katrina, Gabrielle, Danielle, and Brianna.
Visitation will be held at Kedz Funeral Home 1123 Hooper Ave. Toms River on Wednesday, December 26, 2018 from 6 until service time at 8:30pm. Cremation will be private.