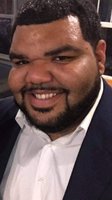 Joseph Anthony Palmer, Jr.
Joseph A. Palmer, Jr., 29 of Brick Township, passed away Monday, December 24, 2018. Joseph owned and operated JPL Landscaping of Brick. Born in Toms River, Joseph lived all of his life in Brick.
He is survived by his mother Liza Vazquez; two sons, Sebastian Cole Palmer and Julian K. Palmer; sister, Sasha Vazquez; fiancée Latisha Marshall; maternal grandparents, Julio and Ana Vazquez; and two uncles, Donato Rivera and Anthony Vazquez.
Visitation will be held at Kedz Funeral Home, 1123 Hooper Ave., Toms River on Friday, December 28, 2018 from 4 to 8 pm. Mass of Christian Burial will be celebrated 9:00 am Saturday at St. Joseph's Catholic Church, Hooper Avenue, Toms River. Burial will follow at St. Joseph's Cemetery in Toms River.