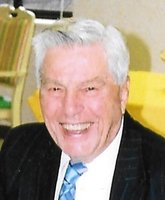 Joseph A. Irving
Joseph A. Irving, 95 of Manchester, passed away Monday, December 31, 2018. Joe was the owner-operator of 'His Own Cleaning Service' for 38 years, retiring in 2003. He was a proud veteran having served in the US Navy during World War II. He was a life member of the American Legion and was a member of the Destroyer Escort Association. Born in Toledo, Ohio, Joe lived in Yonkers, NY before moving to the Ocean County area in 1998. He was predeceased by his first wife Mary Irving in 1995 and his second wife Janet Brown Irving in 2013.
Surviving are his children, Linda Itterly and her husband William, Joseph L. Irving and his wife Sunnie, and Laura d'Afflisio and her husband Joseph; grandchildren, Caleb Itterly, Bethany Itterly and husband Jeremiah Lamm, Paul Itterly, Esther Itterly and Gianna d'Afflisio; sister Pat Kreuz; and brother Arthur Irving.
Visitation will be held at Kedz Funeral Home, 1123 Hooper Ave., Toms River on Monday, January 7, 2019 from 2 to 4 & 7 to 9 pm. Funeral services will be 10:30 am Tuesday at the Funeral Home. Burial will follow at the Brigadier General William C. Doyle Veterans Memorial Cemetery, 350 Province Line Road, Wrightstown, NJ. In lieu of flowers, the family requests donations in Joe's name be made to Focus On The Family, 8605 Explorer Drive, Colorado Springs, CO 80920 or by phone 1-800-AFAMILY.