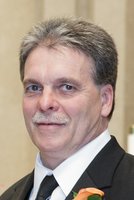 Gerard Crepezzi
Gerard "Jerry" C. Crepezzi, 56 of Toms River, passed away Tuesday, January 1, 2019 at his home. Jerry was the maintenance director of Five Star Senior Living of Lakewood for the past 9 years. He was born and raised in East Orange, NJ and moved to Toms River in 1969.
He is survived by his beloved wife, Gina Crepezzi; eight children, Gerard T. Crepezzi, Amber L. Crepezzi, Virginia L. Bell, Kimberly L. Bell, Pamela E. McCourt and husband James, James R. Bell, Julianne Crepezzi and Gabriella Crepezzi; and four cherished grandchildren.
Visitation will be held at Kedz Funeral Home, 1123 Hooper Avenue, Toms River on Tuesday, January 8th 2pm to 4pm & 7pm to 9pm. Funeral services will be held at the Ocean County Memorial Park Cemetery, 1722 Silverton Road, Toms River. Friends are invited to meet the family on Wednesday, January 9th at 12:00pm at the cemetery. In lieu of flowers, memorial contributions to St. Jude Children's Research Hospital, 501 St. Jude Place, Memphis, TN 38105-9959 or www.stjude.org in his name would be appreciated.