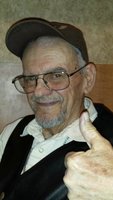 George S. Woolley
George S. Woolley, Sr., 79 of Toms River, passed away peacefully with his family by his side on Tuesday, January 8, 2019 at Monmouth Medical Center – Southern Campus, Lakewood. George was married to the love of his life for over 60 years. Together they created a beautiful life and family. Spending time with his family made him extremely happy – his friends as well. His cat Oliver was his buddy, always by his side. If he wasn't outside fixing something, you could find him inside playing his guitar – he loved country music. And if he wasn't doing that he was off taking a long motorcycle ride. He had such a passion for life.
As a young adult he enjoyed playing in bands – his love and passion for music was contagious. He was also a part of the Howell Township Police Reserves, self employed siding contractor for 13 years and then he moved on to Clayton Block where he was a truck driver for over 20 years.
George was predeceased by his parents Frederick and Jeanette Woolley, and a sister Janice Rapisardi-Woolley.
Surviving are his wife Jane Woolley; son George S. Woolley, Jr., and his wife Loretta; daughter Susan A. Blank and her husband Robert J. Blank, Jr.; two grandsons, Robert and Owen Blank; two granddaughters, Barbara J. Czarnecki and her husband Peter J Czarnecki, and Amanda Woolley and her fiancé Nicholas Roehrich; great grandson Derek Accatatta; sister, Doris Soper and her partner Anthony Clapp.
A memorial service will take place 9:00 am on Saturday, January 19, 2019 at the Ocean County Memorial Park, 1722 Silverton Road, Toms River, NJ 08753. (732) 255-1870.
A Celebration of Life will follow immediately after at Gardens of Pleasant Plains Club House, 41 Columbine Circle, Toms River, NJ 08755.