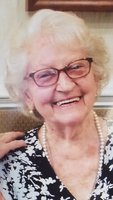 Edna M Dangler-Yerks
Edna May Westervelt Dangler (Kolchin; Yerks) 84, beloved mother, grandmother died on March 22nd at The Pines at Whiting. She is survived by her sons John and Mark Kolchin, daughter, Nancy Hannah, and stepson Gerald Yerks. She has seven immediate grandchildren, Ian, Macaire and Conor Kolchin (from John and Gail [Driscoll]), and Matthew, James, Emily and Abigail Kolchin (from Mark and Cynthia). Born on March 23, 1934, she was raised in Toms River and lived most of her life in the Silverton section of Toms River, graduating from Toms River High School (South). She was married to Clarence "CY" Yerks, owner of "Cy's Garage", a longtime resident of Silverton whose descendants were among the early settlers to the area. Her father George Westervelt (married to Adelaide Heine) served in local law enforcement as a detective and captain of police. She also attended Bethany Bible Chapel in Silverton for many years and later Osbornville Protestant Church in Ocean County. She worked as an independent title searcher in the Ocean County Courthouse for over 30 years and was known for her meticulous attention to detail. She loved her family, loved to read, and loved to be with friends and will always be remembered for her friendly smile and compassionate attitude toward others.
Visitation will be from 2-4 PM; and 7-9 PM on Tuesday, March 26th at Kedz Funeral Home 1123 Hooper Ave, Toms River. A funeral service will be held at 10 AM on Wednesday the 27th at Kedz with interment afterwards at the Silverton Cemetery on Hooper Ave in Silverton.
IN LIEU OF FLOWERS, CONTRIBUTIONS TO AMERICA'S KESWICK, 601 ROUTE 503, WHITING, NJ 08759
WOULD BE APPRECIATED