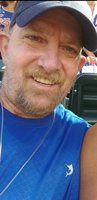 Gary L. Rose
Gary Rose, 64, passed away peacefully surrounded by his family on August 19, 2019. Although he was a resident in West Palm Beach Florida, Gary was born and raised in Toms River, NJ. Gary worked as a Truck Driver for Dabco Transportation Inc. for 10 years before retiring. He was a member of the Italian-American Club, and also a devoted member of Bethel Church in Lake Worth, Florida. He really enjoyed going on cruises with Stephanie, and going to the beach. Gary had a love for golf, but he will always be remembered as the die-hard Mets and Eagles fan that he was.
Gary is predeceased by his parents, Roland and Lois Rose.
He is survived by his loving wife, Stephanie Rose of 6 years; son, David Marone and his wife Kristy; daughters, Somer Rose and her boyfriend Richie, Jennifer Kelly and her husband Justian, Kimberly Farina and her husband Joe, and Lauren Engelken and her boyfriend Nick; sister, Debbie Denton and her husband Fil; granddaughters, Jordan, Mikayla, Riley, Mali, Londyn, Kennedy, Avery, and Violet; grandsons, Colin, Dylan, and John Dallas; nieces, Nicole Neuhaus, and Kristina Neuhaus and her husband Rob.
Cremation will be private.